Sailing Retreats on the Splendid CUAN LAW Yacht
---
.
---
aslider id=
CUAN LAW, the Largest Trimaran in the World, is available to offer you a magnificent
experience as you sail through the splendid
waters of the British Virgin Islands
.
With its beautiful clear waters and stunning green islands rising majestically to the blue skies, the British Virgin Islands are best enjoyed from the sea. The magnificent Cuan Law provides the ultimate live-aboard experience in the BVI. The ambiance is both fun and relaxed, with a wide range of activities to suit everyone, as well as ample opportunity for quiet relaxation!
With her towering sails reaching to a height of 103 feet, and at 105 feet long and 40 feet wide, Cuan Law is the largest trimaran in the world! Fully crewed with captain, chef, 2 stewards, engineer and 2 dive masters. Cuan Law accommodates up to 20 guests in her 10 spacious staterooms. All staterooms can be configured as either two twin beds or one queen bed, and each features a private bathroom and individual air conditioning. The extensive aft deck, top deck with hammocks, and air conditioned saloon offer great space to enjoy the picturesque views, socialize and relax.
Our All Inclusive rates cover facilitation and sessions fees, all your meals, snacks, beverages and bar, as well as the use of our 'water toys'.
Cuan Law is ideal for business retreats, family get-togethers and celebrations, and our experienced crew are on hand to ensure you have a wonderful journey.
Join us and enjoy an unforgettable Caribbean experience.
Call us at TODAY at 516 343-3210 to get more information
.
Ten Staterooms comfortably accommodate 20 guests
Our staterooms are light and airy!
All have outside views
Right off main saloon – no stairs
Fully sound insulated
Lots of luggage storage – even for hard cases
Big drawers, shelves and hanging locker
full individually controlled a/c or natural ventilation through large windows and hatches
Private bathroom with shower and plenty of water!
Standard land-type flush toilet
110 volt outlets (US style)
choice of twin or double beds
The strict requirement of the Marine Department, and common sense, demand that all rooms of the ship including bathrooms have at least two escape routes. Thus all windows and hatches are man sized.
The ship also has several watertight bulkheads and a double bottom – features that are seldom found on a live-aboard.
.
Main Saloon
Each stateroom adjoins the Main Saloon which measures over 30 feet by 22. This is the social hub of the ship with luxurious real leather easy chairs and sofas, tables and a large bar. Around the mast are coolers for beer, wine and juices.
The saloon has two wide openings onto the cockpit deck where meals are served. There is a library and magazine rack and lots of card and board games
.
Cuan Law Video Lounge
Off the Cockpit Deck is a small lounge that seats about twelve. It is a private viewing area for your own movies or DVDs from our entertainment library. Movies you take on board can be connected directly to a 26 inch flat screen.
.
Top Deck
The Cuan Law sun deck lies directly above the lounge area. With this much space you'll find the perfect spot here for sunbathing, yoga, and connecting with friends. Sun pads are provided for each guest, and the Hobies, which are stored up here, seem to be popular meeting points!
At sunset, it's probably the most popular place on the boat.
Two comfortable hammocks on the top deck and a third on the foredeck are comfortable places to settle in and enjoy the ocean breezes.
.
Aft Deck
At the back of the saloon two doors exit to the comfortable teak aft deck, covered by a permanently rigged awning. This area serves as both an activities deck and dining terrace, an arrangement that is quite convenient. The clever design of the tables and chairs allows the system to work.
During the day you'll gather here for briefings and preparation for activities. Its also a nice shady place to just relax.
At meal time the aft deck makes a marvelous conversion to a smart "oceanfront restaurant". In a matter of a few minutes, the crew removes the protective covers from the small day tables, and by swinging up the hinged leaves beautiful varnished hardwood dining tables are revealed. Delicious, colorful buffets are set up for breakfast and lunch. Add the fine china and crystal, soft lighting, island breezes and an ever-changing ocean view and you've got the perfect setting for a full service dinner.
.
Dining Aboard Cuan Law
When you hear the ship's bell, its either time for a briefing or time to eat! Many live-aboards have excellent food but Cuan Law is in a class of its own. All meals are served on the comfortable and spacious teak aft deck with the ocean and the islands of the Caribbean as your backdrop.
Each morning begins with fruit juice, fresh coffee and tea available from 6.30. Soon after, breakfast is served buffet style on the aft deck. All of our breakfasts are served with a fresh fruit platter, a selection of cold fruit juices, teas, coffee, toast, muffins, bagels, an assortment of breakfast cereals and ice-cooled yogurts. Each day a variety of hot dishes are offered.
Lunch is a large buffet served in the shade of the aft deck canopy that will attract even the most dedicated sunbather. You will enjoy a wide variety of international dishes, fantastic salads, fresh fruit and delicious baked desserts.
Between meals there are plenty of snacks including bowls full of chocolate goodies, granola bars, fresh fruit and flavorful appetizers in the afternoon.
Dinner is a classic sit-down event and is the culinary highlight of the day. A savory blend of cosmopolitan cuisine and Caribbean fare are complimented by a broad selection of fine wines. A week of dining on the Cuan Law is a truly memorable experience.
We know that your dietary needs are important to you. We welcome your personal requests and are pleased to meet your food requirements.
Every taste bud tantalizing meal is an event to anticipate. Think of some of the best meals you have ever had, put them into a one week menu and you will have a good idea of the level of dining that Cuan Law provides. Needless to say, this is not the time to start a diet.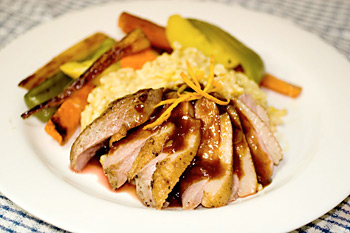 Self-service Bar
The self-service wet bar is located in the main salon. Everything, including alcohol, is free of charge. There are built in coolers round the mast next to the bar for beers and juices and a very cold freezer section for that vodka martini! Sodas are in a gun, and there is always plenty of ice.
A full selection of beer and liquor is always on hand. Mix your own or ask one of the crew to blend up their favorite island concoction for you. We have a selection of white and red wines available for bar consumption and different white and red wines are offered at dinner every night. Coffee and tea service is provided round the clock and hors d'oeuvres are served in the late afternoon.
Call 516 343-3210 TODAY to get the COST and details of this amazing opportunity
or