Sailing Retreats on the Splendid CUAN LAW Yacht
---
.
---
.
Whether you are here with your executive team, a group from your organization, family members or a special group working together, there are a variety of available activities that are all included as part of your journey. Here are some that you will enjoy…
.
Sailing in the British Virgin Islands
The British Virgin Islands is one of the world's finest sailing destinations and Cuan Law was designed specifically for this area. The sails are unfurled whenever the wind is right.
You can either sit back and enjoy Cuan Law's quiet power or lend a hand with one of the massive winches. The Captain likes to put the sails up and let Cuan Law glide on the wind at least once a day, or as much as the wind permits which is the majority of the time she is under way.
With a steady wind behind her she can cruise at speeds of up to 14 knots. The stability provided by her triple hull design defines the phrase "smooth sailing". Sit back on the sunny deck with a cold Piña Colada and you'll never want to go home!
.
Scuba Diving in the British Virgin Islands is a marvelous experience to add to your sailing retreat!
DIVING SERVICES
Our Dive Tenders
Diving Conditions in the BVI
Scuba Certifications Available
Scuba Equipment Rentals
Nitrox Diving
Cuan Law makes it easy to explore the underwater world by Scuba diving.
Among the talented crew are two Scuba Instructors and additional Dive Masters. You can take a short Introduction to Scuba course if you are a beginner in a very 'no Pressure' environment. Or guides are available, if you wish, for a qualified diver. Our instructors can also do 'referrals' and more advanced courses. Should you need to rent equipment, we arrange for that to be on board when you arrive.
Dives are planned each day to your requests but leave plenty of time In between for kayaking, Hobie Cat sailing, snorkeling and beach trips or just relaxing in a hammock with a cool drink. When they hear dive bell ring, those interested in the next dive gather for a briefing on the aft deck.
Dive briefings are very detailed, using the illustrations we have of each site. If you are on an Introduction Course, your depth is restricted to 40 feet.
The crew handle your dive gear aboard Cuan Law – simply hand your gear to the dive crew before the first dive and they look after it from there. You just step up to the waist-high tank deck, where a member of the crew has your tank waiting for you to slip into your BC. From there you either enter the water from the aft deck or board the tender. At the end of the dive, you step up to the tank deck and the crew take your equipment is taken by the crew to be washed and filled for the next dive and stored away – a lot like checking your coat at a restaurant! Masks, snorkels and personal dive accessories are stored in your individual dive bins located under the seating area, keeping the cockpit clutter free.
We always give you a full tank aboard Cuan Law. There are two quiet electric air compressors as well as a Nitrox plant efficiently pumping the 3,000 psi aluminum tanks of various sizes to suit your breathing rate and body size.
A plush skin is that is needed in the perfect water temperature in summer (82°F) in the BVI but in winter a light wet suit is needed. You can rent both locally. The water temperature is about 78°F in winter. If you want to take part in a night dive, make sure you bring a light. We also have lights available for purchase in the "Boatique". There are fresh water shower hoses located at the back of the deck to use after your swim or dive.
A small peek at what is available under these pristine, clear, blue waters…
British Virgin Islands, Island Excursions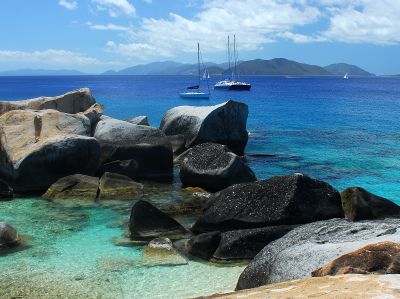 The British Virgin Islands (BVI) are made up of over 50 islands and cays, ranging from idyllic uninhabited islets, such as Sandy Cay, to small island resorts like Cooper Island and the main island of Tortola, with its towns, ferry ports and Beef Island airport.
The inlets and bays of the BVI provide a stunning variety of scenic anchorages, from large sheltered bays on the main islands, such as Tortola's Road Harbour, to secluded coves with gorgeous white sand beaches and tranquil waters. The BVI also boasts an incredible diversity of diving experiences, ranging from colorful coral reefs teeming with small fish to atmospheric wreck diving and thrilling open water sites where divers might spot leatherback turtles, sharks, rays and pelagic fish.
With so many quiet bays, picturesque anchorages and spectacular diving and snorkeling sites, the BVI is one of the treasures of the Caribbean. Each island has its own unique charms, attractions and sites of interest. Norman Island is renowned for its piratic history, Sandy Cay is the very image of the perfect desert island, and Jost Van Dyke is unrivaled in the BVI as a place to let your hair down and try local cocktails like the Painkiller.
A vacation aboard the Cuan Law is one of the best ways to explore the gorgeous inlets, beaches and dive sites that the BVI has become so famous for. Trips can be tailored to the individual preferences of each party, whether they are adventurous divers in search of spectacular underwater sites or sun seekers who love nothing better than relaxing on deck sipping a cold cocktail or strolling barefoot along one of the powdery white sand beaches.
Beach BBQ
The beach barbecue at "The Crawl", a fabulous rock enclosed beach and pool, is the highlight of the last afternoon of the trip. In a "film set" among the huge boulders and palm trees on the beach we set up a delicious barbecue featuring various meats, fish and veggies, accompanied by colorful salads and of course well stocked coolers of wine beer and sodas.
Tables and benches allow for a comfortable meal for all in the shade of the palm trees.
Other Activities
Kayaks
There are five Ocean Kayaks carried onboard Cuan Law that you can use anytime. Four are doubles and one is a single. They are easy to use, virtually indestructible, and offer a perfect way to explore the area around the anchorages.
Hobie Cats
There are two 14 foot Hobie Cats onboard for your use. Don't worry, the "rescue team" will be out in a snap should you need assistance. Crew members will also be happy to teach you or do the sailing for you if you prefer to sit back and enjoy the splashing and the sun.
Waterskiing
Been a while since you've tried to get up on one ski? Slalom and double skis are ready to challenge those sleeping muscles. Or, you might want to try the knee board, wake board or scurfer.
Snorkeling
With such an abundance of vibrant shallow reefs and intriguing caves, you'll have plenty of opportunities to grab a mask and snorkel and investigate the marine world from the surface. Masks, fins, snorkels and flotation vests are available for your use at no charge.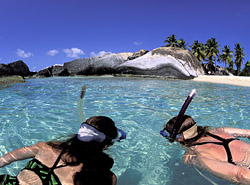 Sunbathing
If you just don't feel like getting wet the Cuan Law top deck provides plenty of space for some intense sun bathing. Each stateroom comes equipped with a pair of foam pads for sunning on deck. Grab an icy cool tropical drink and put on plenty of sunscreen! Try out the three hammocks!
Boat Excursions
Cuan Law carries two fast and stable 22 foot, 115HP four cycle rigid inflatable boats, custom designed to our specifications in Holland. They are used for water skiing, diving and snorkel expeditions. If you would like a day ashore – perhaps a spa treatment at a local resort – then one of the crew will happily take you there and pick you up again.
A wide stairway with sturdy handrails leads down to a large platform where the tender wedges between the platform and the main hull. This is the safest and most stable system in the charter yacht world. All the tubes, and the flat floor are carpeted for a sure grip for the feet, and a very user friendly swim ladder is provided at the stern with grab handles and rail.
The Caves at Norman Island
Legend has it that pirate's treasure was discovered here around the turn of the century. Now named Treasure Point, the Caves at Norman Island are a great place to snorkel around during your surface interval. The area consists of three water-level caves that penetrate back into the rocky cliffs. Bring along a flashlight so you can see deep into the dark eerie holes and passageways. Outside the caves the steep cliffs drop down underwater as deep as 40′ to the sandy bottom and are home to fish, sponges, corals and shrimp. The defensive Sergeant majors will protect their eggs, but will move away long enough to grab snacks from visiting snorkelers.
Call NOW for more information
516 343-3210
or go to